Telecommunication 19 Inch 1U 2U Rack Mount Slide Rail Drawer 8 12 24 48 96 144 Core Port Fiber Optic Patch Panel ODF Price
Fiber optic patch panel is an integrated unit for fiber management, Foclink offer wall mounted fiber optic patch panel and rack mounted fiber optic patch panels, these equipment function is to fix and manage the fiber optic cables inside the box as well as provide protection.
There different models to fit for 12 core fiber,24 core fiber,36 core fiber,48 core fiber, 72 core fiber,96 core fiber,144 core fiber applications. They can be with different adapter interface including the SC, ST, FC, LC MTRJ, etc. related fiber accessories and pigtails are optional.

Fiber optic patch panel ,Fiber optic distribution frame, fiber optic distribution Box, ODF
1. Properties:
Suitable for the protective connection between cables and pigtails
Suitable for the connection between optical cables and optical communication device
unique structure, easy installation, for indoor use
2. Classification:
Rack Mount, Wall Mount. Suitable for FC adapter,ST adapter,SC adapter, LC adapter etc.
capacity: 12,24,32,48,64,72,96 splices
19 inches; 1U for 12 splices, 24 splices,2U installation for 32 splices, 48 splices, and 3U for 64, 72 & 96 splices.
Adapters installed: FC adapter ,ST adapter,SC adapter, LC adapter etc
Suitable for ribbon and bunchy fiber cable

Feature
1) Standard size, light weight and reasonable structure
2) Splice tray inside changeable
3) 19-inch standard size, light in weight and robust structure
4) Suitable for ribbon and single fiber
5) Various panel plate to fit different adapter interface
6) Front mark on the plate is easy for identification and operation
7) 24C, 36C, 48C, 96C,144C optional, with or without fiber optic pigtails and adapters
8) Easy for management and operation

| | |
| --- | --- |
| Fiber Capacity of panel | 6-144 core(12 24 48 port usually) |
| Panel Connector | SC LC ST FC |
| Type | Sliding Or Fixed |
| Dimension | 19'' 1U/2U/3U/4U... |
| Material | Cold Rolled Steel or Aluminum |
| Storage Temperature | -45~+65℃ |
| Thickness | 1.0 1.2 mm |
| Accessories | Cable ties, mounting ear screws, and spiral wrap tube |
Application
1) Telecommunications subscriber loop
2) Fiber to the home (FTTH)
3) LAN/WAN
4) CATV

Foclink Communications Co., Ltd. is a Hi-Tech enterprise having its own brand and specializing in R&D, manufacture and sales of fiber optical communications equipments.
The main products of Foclink include fiber optic patch cord, connector, adapter, optical coupler, attenuator, optic media converter, optic splice closure, optic terminal box, ODF etc, which are widely used in telecommunications, broadband, broadcast, CATV and network industry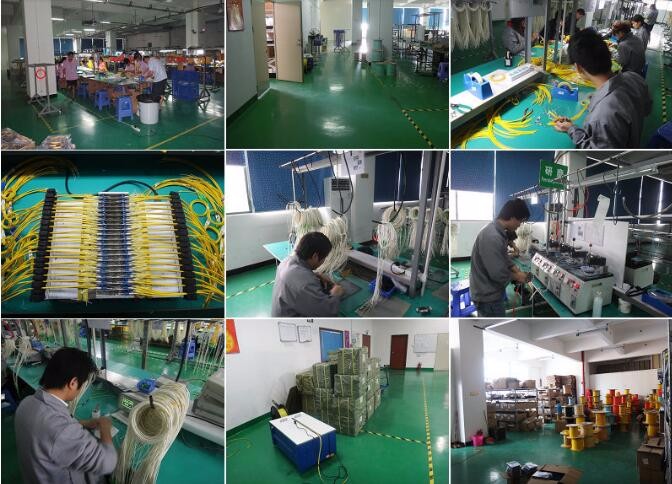 1.What is your MOQ?
Foclink: Normally is 1pcs/item,could be coordinated if you have detail requirements.

2.How about your delivery date?
Foclink: Delivery date is about 3-5days, it depends on the order quantity.

3.Can you supply sample for customers?
Foclink: of course, however the delivery cost will be charged on customer's account

4.How about your price?
Foclink: We are supplying products with very competitive price based on good performance.

5.Do you offer OEM Service ?
Foclink: We accept OEM, ODM. The cable size and material are customized. Our own logo and own design are welcome. We will produce according to your requirment and description;

Telecommunication 19 Inch 1U 2U Rack Mount Slide Rail Drawer 8 12 24 48 96 144 Core Port Fiber Optic Patch Panel ODF Price,Telecommunication 19 Inch 1U 2U Rack Mount Slide Rail Drawer 8 12 24 48 96 144 Core Port Fiber Optic Patch Panel ODF Price,Telecommunication 19 Inch 1U 2U Rack Mount Slide Rail Drawer 8 12 24 48 96 144 Core Port Fiber Optic Patch Panel ODF Price,