Advantages>>>
Advantage 1: What these heart rate monitor straps allow is for your Smartphone to directly receive heart rate from the chest strap, there is no receiver dongle required like there is for ANT+ so the advantage lies in the cost savings.
Advantage 2: One other advantage is lower power energy consumption and these chest straps will last about 8 months per battery .
Advantage 3: heart rate monitor Straps were comfortable and used fabrics with an external transmitter so they are much more comfortable then the older chest straps made from rubber and they are lighter too.
Advantage 4: New design heart rate sensor, personal meeting.
Advantage 5: Today's youth don't wear wrist watches but they have their Smartphones with them 24/7/365, indeed, most people who run or bike outdoors take their Smartphones with them so turning the phone into a fitness device is just a natural extension of the phones own capabilities.
Advantage 6: Multiple Popular APP, such as Runtastic / Endomondo / Wahoo Fitness / WahooUtility / dacadoo / 60beat / runkeeper/ MapMyRide
Suitable Smartphone : iPhone 4S, iPhone 5, iPod Touch (5th generation), the NEW iPad (3rd and 4th generations)
This is a chest belt speed and distance digital Bluetooth transmission system.A chest
belt that user comfortably wears against the skin and around his chest. It picks up the
heart signals, and sends them wirelessly(Bluetooth) to the receiver with BT(smart mobile
and notebook etc). Heart rate information display on screen of mobile and send to remote
web site for analysis by telecom.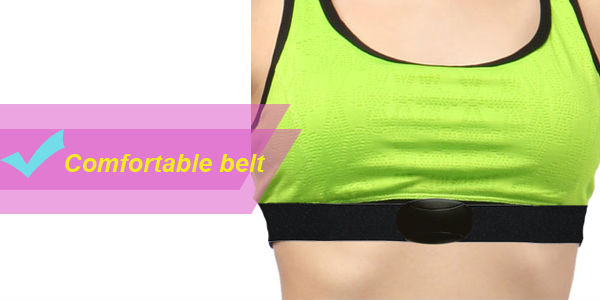 | | |
| --- | --- |
| Bluetooth | 4.0 |
| Water Resistan | IPX4 |
| Shock Resistan | withstand 1.5 meter drop test |
| Frequency | 2.4GHz |
| Push buttons | NO |
| Operation Environment | -10 to 40 °C / 14 to 104 F |
| Storage Environment | -20 to 60 °C / -4 to 140 F |
| System support | bluetooth 4.0 device |
| Power Consumption | Low energy |
| Heart rate resolution | 2bpm (working belt is quiet) |
| Heart rate range | 30 ~ 240 bpm |
This bluetooth heart rate monitor includes two part:
1. one chest strap
2. one heart rate sensor
New design heart rate sensor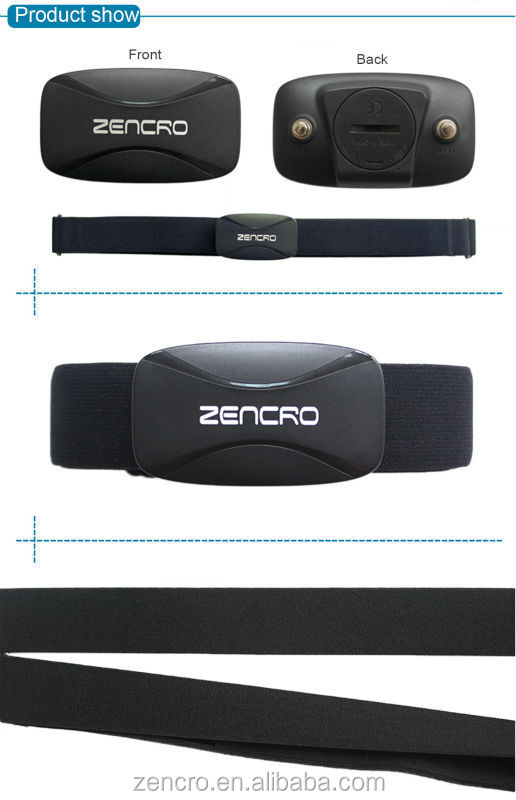 Comfortable, soft, adjustable chest strap
The strap can be adjustable and suitable for wearing on your body.
For using, just put the heart rate sensor on the chest strap, then wear the chest
strap on body, you can read the real time heart rate on bluetooth 4.0 devices.
APP work>>>