JHF Series Greenhouse Circulation Fan
Description:
1. Motor is special made for circulation fan, which is with high efficient and energy saving. It is fully enclosed, can work for long time in high temperature and high humidity circumstance.
2. The greenhouse circulation fan is subject to 360 hour destructive test to ensure its performance.
3. Fan blades are made of aluminum material and with wide angle, light weight, low noise, and
excellent corrosion resistance. Together with specific motor, they are low energy waste, strong
wind, long air distance.
4. Fan shell is made using 304 stainless steel and formed by CNC punch press. It is aesthetically pleasing and rust resistant.
5. Front and rear safety mesh grills ensure operation safety.
6. Suspension fasteners are made of stainless steel. They are stable operation, low noise, easy to install, safe to use, and can easily adjust the angle.
7. Designed and made in accordance with ISO9001 standards, the circulation fan is reliable and high quality.
8. The utilization of internationally advanced energy saving technology and thermal protection
system results in our greenhouse circulation fan having the advantages of low energy
consumption and long service life (over 12 years).

Technical Parameters:
Model

Dia

(mm)

Voltage

(V)

Frequency

(Hz)

Input power

(w)

Air volume

(m3/h)

Press.(Pa)

Blade

speed(R/S)

Flow (m)

Overall dimensions

(mm)

No. of blade

JHF-400

400

220/380

50

120

4600

60

1400

12-16

460×460×310

5

JHF-500

500

220/380

50

250

5800

60

935

18-22

560×560×380

7

JFD-400S

400

220/380

50

250

5500

60

1400

20-40

510*510*300

6
Pls be noted:
JHF-40 & JHF-50 are stainless steel circulation fan, and JFD-40S is PVC material.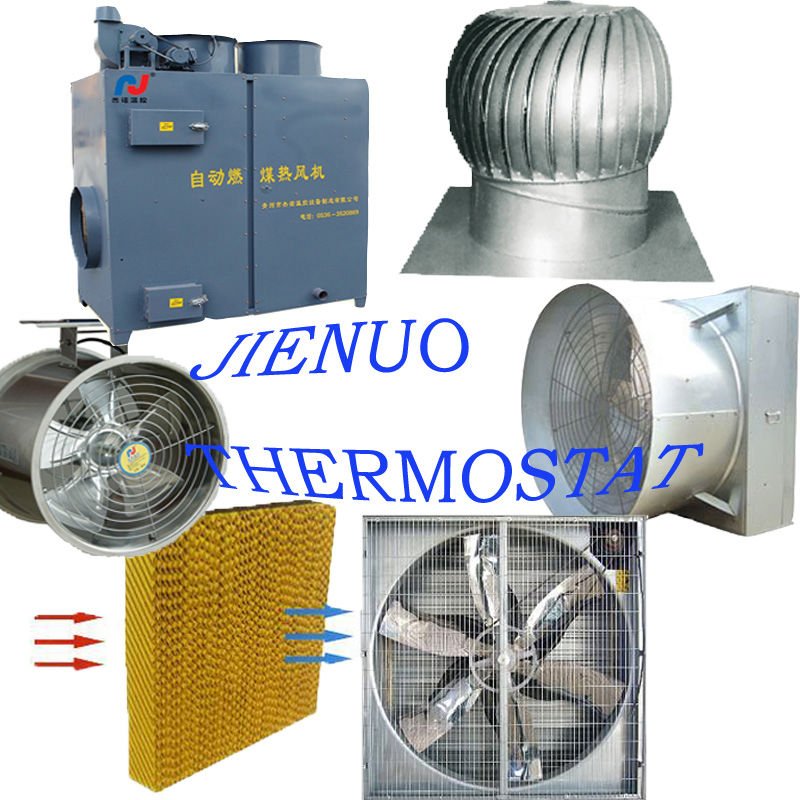 About us:
Jienuo Temperature Euipment Company is an exhaust fan and hot air generator manufacturer that was founded in 2001. Reliable quality,economical price, long life and easy installation have resulted in Jienuo exhaust fan and hot air generator becoming popular with customers from the United States, Thailand, Vietnam, Korea, Japan, India, Palkistan, Iran, Bangladesh, Kuwait, United Arab Emirates, to name a few.